British Values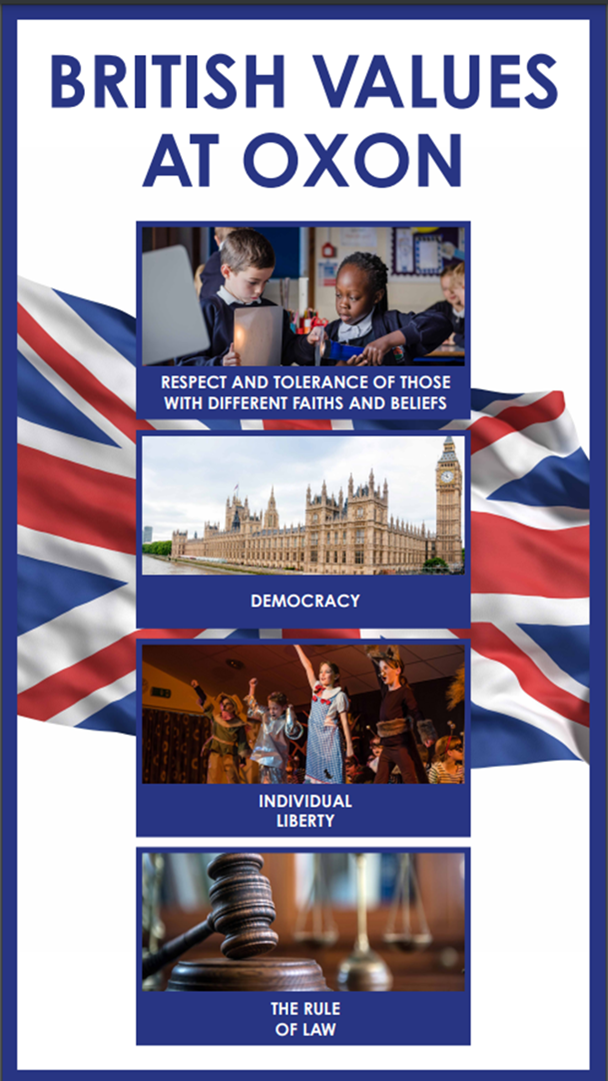 Oxon CE Primary School
British Values
Oxon CE Primary School is fully committed to fulfilling the DfE requirement to 'promote the fundamental British values of democracy, the rule of law, individual liberty, and mutual respect and tolerance of those with different faiths and beliefs.'
The school curriculum and ethos aims to:
enable children to develop their self-knowledge, self-esteem and self-confidence;
enable children to distinguish right from wrong and to respect the civil and criminal law of England;
encourage children to accept responsibility for their behaviour, show initiative, and to understand how they can contribute positively to the lives of those living and working in the locality of the school and to society more widely;
enable children to acquire a broad general knowledge of, and respect for, public institutions and services in England;
further tolerance and harmony between different cultural traditions by enabling students to acquire an appreciation and respect for their own and other cultures;
encourage respect for other people; and
encourage respect for democracy and support for participation in the democratic processes, including respect for the basis on which the law is made and applied in England.
The school curriculum and ethos is designed to enable children to acquire the following understanding and knowledge as a result of schools promoting fundamental British values.
an understanding of how citizens can influence decision-making through the democratic process;
an appreciation that living under the rule of law protects individual citizens and is essential for their wellbeing and safety;
an understanding that there is a separation of power between the executive and the judiciary, and that while some public bodies such as the police and the army can be held to account through Parliament, others such as the courts maintain independence;(For most children this will be at an introductory level.)
an understanding that the freedom to choose and hold other faiths and beliefs is protected in law;
an acceptance that other people having different faiths or beliefs to oneself (or having none) should be accepted and tolerated, and should not be the cause of prejudicial or discriminatory behaviour; and
an understanding of the importance of identifying and combatting discrimination.
Key strategies the school uses to promote the British Values agenda:
Area

Key elements and examples

References (see above)

School Council

We have a robust and active, elected school council that has played a key part in the school life and development for over a decade.
The display board by the school office illustrates the range of projects they have been involved in.
The minutes of the council meetings demonstrate the work of the council over many years.

a,b,c,d,e,f,g

i,ii,iv,v,vi

PSHE Curriculum

The PSHE curriculum is well established and covers many of the learning outcomes.

a,b,c,d,e,f,g

i,ii,iii,iv.v,vi

Friday morning whole school acts of worship

Friday morning whole school acts of worship (assemblies) regularly explore these themes.
Examples of recent assemblies include:

The general election 2015
The right to vote - suffragettes
India – democracy
The Scottish Referendum
Kenya - partnership

a,b,c,d,e,f,g

i,ii,iii,iv,v,vi

Kenyan partner school

Very strong links with our partner school in Kenya with four school staff visiting Kenya and three Kenyan staff visiting Oxon.
A member of our staff has a key co-ordinating role, on a regional basis, for this project, which is one of the largest British Council projects nationally.

a,b,c,d,e,f,g

i,ii,iv,v,vi

Arts Week

Each year the school holds an Arts Week that culminates in an open afternoon. Recent themes have included:

India
China
South America

These weeks are very popular with children and parents and help promote the inclusive nature of our school.

a,b,c,d,e,f,g

i,ii,iii,iv,v,vi

RE Curriculum

High quality curriculum in place linked to The Shropshire Agreed Syllabus.
Evidence in planning and children's books illustrate this work.
The use of visits and visitors further supports this.

a,b,c,d,e,f,g

i,ii,iv,v,vi

History Curriculum

High quality curriculum in place, the curriculum has many overlaps with the British Values agenda.
Evidence in planning and children's books to illustrate this work.
Examples would include:

b,d,e,f,g

i,ii,iii,iv,v,vi

Wider Curriculum

Our wider curriculum supports this agenda in many ways.
Examples would include:

Geography – comparisons with other countries.
English – reading texts linked to the values.
English – writing, including themes linked to the values.

a,b,c,d,e,f,g

i,ii,iii,iv,v,vi

School Ethos

Areas such as our House system with elected captains and vice captains.
School prefects.

a,b,c,d,e,f,g

i,ii,iv,v,vi
Staff routinely review school actions and impact in this area.